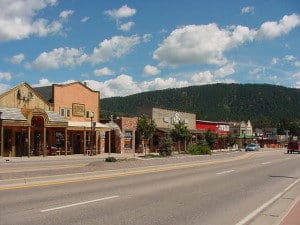 Welcome to the Woodland Park branch of Colorado iPhone Repair! Woodland Park is a wonderful community that is growing all the time and we are happy to announce that we now offer Woodland Park iPhone Repair right here in town! No longer do you have to travel to the Springs in order to get your phone fixed!
Same Great iPhone Repair, Woodland Park Style!
We offer the same great repair services as our shop in Colorado Springs. We know it can be a hassle to make it out there for your phone repair needs, so we decided to branch out and set up another shop right in Woodland Park! iPhone Repair is our specialty, but we also offer Android repair, Nexus repair, and more!
Woodland Park is a growing community with new stores and commercial opportunities opening up all the time. The City Above the Clouds is a great place to get outdoors and enjoy the beautiful Pike National Forest, shop downtown, and enjoy hiking, fishing, and climbing.
Most folks make the commute to the Springs on a daily basis, but as Woodland Park grows, its residents are finding it easier and easier to stay in town. This is why we wanted to offer our iPhone repair services in Woodland Park, to make it easier for folks who need to repair a cracked screen or upgrade their phone and not have to travel out of the community. We are located at 111 West Midland Ave on the corner of West Midland Avenue and North Center St.
The Best iPhone Repair in Woodland Park. We Guarantee It.
We are proud to be Woodland Park iPhone repair specialists with a passion for technical expertise, courteous service, and quick repair times. Of course, we offer our repairs at the same great low prices as our other locations.
Come on down today if you're in need of any type of repair. We can fix:
Cracked or broken screens
Broken or dead batteries
Phone glitches
Software-related problems
Broken phone bodies or backplates
and more!
If there's something you aren't sure if we can fix or not, give us a call at (719) 686-5696 and one of our friendly repair specialists would be happy to help!