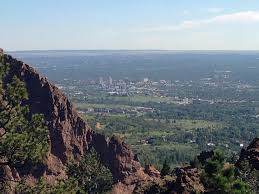 Living in Colorado Springs offers many benefits year round– hiking, camping, biking, and more. It's a great place to enjoy fresh air, get active, and enjoy the great outdoors. If you have an iPhone, you have the opportunity to film and photograph your favorite Colorado Springs memories in the outdoors, at home, or wherever you wander.
…But sometimes, accidents happen.
You know how it goes. You just get a brand-spankin' new iPhone 5s just in time to go hike Pike's Peak with a few of your buddies. While taking a majestic shot of sunset on the summit, the inevitable happens – you drop your phone and crack your screen….
Luckily, as Colorado Springs iPhone repair specialists, we have just the solution. Our experienced, tech-savvy staff have been repairing iPhones since they first came out and work efficiently and carefully to ensure that your device is repaired to your full satisfaction. We even offer a guarantee on our work.
iPhone Repair is Our Specialty
We've seen it all… Water damage, cracked screens, bent phones. You name it. iPhones are amazing devices and offer us an opportunity to embrace technology in ever-expanding ways. But sometimes, accidents happen and that smooth touch screen glass can get pretty scuffed up, even to the point of wanting to scream, "I can't see anything on my iPhone!!" and throw it out the window. Unfortunately, replacing the entire phone is a lot more expensive than simply having the glass replaced. That's where we come in.
We specialize in:
Broken screen repair
Backplate damage
Water damage
Cosmetic damage
Bent casings
Servicing all iPhone models
We have earned our right as Colorado Springs iPhone repair specialists by repairing hundreds of iPhones for many happy customers in the Springs and surrounding areas. Though we specialize in iPhone repair, we can also fix Android devices and most any electronic device you have. Our work is guaranteed and we work quickly — we'll have you out of the shop within a half hour of your arrival.
Our Work Speaks For Itself
Many of our wonderful clients have been able to provide testimonials to speak for the quality of our work. We are 100% dedicated to making sure that our clients get fast, friendly, effective iPhone repair services. Here's what some people are saying about what we do:
There's Nothing We Can't Fix!
Whatever you've got that's been damaged, bring it in and we'll take a look at it. We've been repairing electronics for decades and we take pride in what we do. We have long been a favorite in our community when folks are in need of iPhone repair. Colorado Springs is a beautiful city with a lot to do and enjoy and we love being a part of helping people use technology to enjoy our beautiful city. Come check us out today!